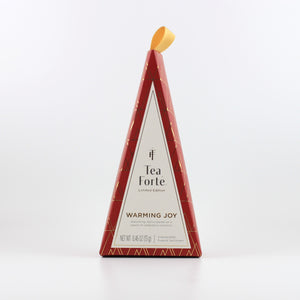 The perfect stocking stuffer, this tree-shaped package is filled with all the best flavors of the season: Raspberry Ganache, Rum Raisin Biscotti, Spiced Ginger Plum, and Winter Chai. 
Raspberry Ganache ingredients: organic black tea, organic cocoa bean, organic hibiscus, organic elderberry, organic cocoa husk, natural flavors, organic raspberries
Rum Raisin Biscotti ingredients: black tea, raisins (10%), safflower petals, natural rum flavor, barley malt (cereal containing gluten), sweet blackberry leaves, Roman chamomile, other natural flavors. Contains barley.
Spiced Ginger Plum ingredients: hibiscus, orange peels, coconut pieces, cranberries, ginger, rose hips, sweet blackberry leaves, cinnamon, natural plum flavor, cornflower petals, other natural flavors, figs, maltodextrin, other natural flavoring (spice)
Winter Chai ingredients: organic rooibos, organic ginger, organic cinnamon, organic lemongrass, organic cardamom pods, natural flavors, organic vanilla pieces
Raspberry Ganache and Winter Chai are USDA Organic. All flavors are Kosher Certified.
Shipping
Orders from the Curated Gifts Collection over $35 get FREE ground shipping. Orders under that amount ship for $5. Items are not wrapped but include a personalized note card. We are unable to ship outside of the United States at this time.
All orders placed before 8:00PM PST will be shipped the following business day.